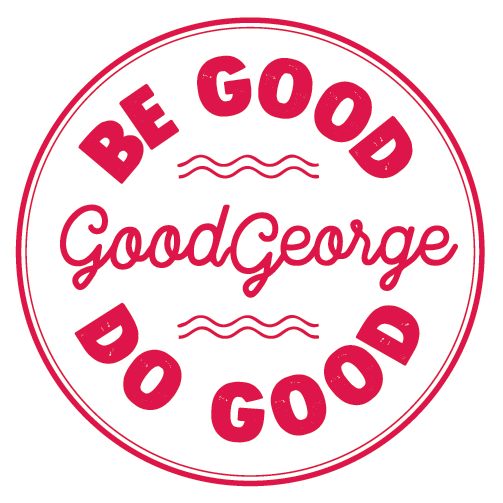 Here at Good George, we're determined to make a difference and muck in with those who could use a hand. That's why we're proud to present the Be Good, Do Good charity initiative - and partnership with The WaterBoy, an organisation that breaks down barriers to help Kiwi kids participate in sport.
This logo represents our mission to help The WaterBoy and can be found in a number of locations, including our menus where $1 from every Be Good, Do Good dish sold goes directly to helping Kiwi kids in need.
To date we've raised over $45,000 for The WaterBoy, and helped 137 kids since the start of our parnership!

If you thought being the last one to get picked for the team was bad, imagine not being able to play at all because you didn't have any money for subs, or couldn't get a lift to the game. The WaterBoy takes these sorts of obstacles and smashes them, because they know how much kids can get out of joining a team, working hard and feeling part of something bigger than themselves.
Thomas, Dwayne, and the team at The WaterBoy rely on local business and organisations like us, in order to help close the gap between haves and have nots in New Zealand, and provide children with the opportunity to get involved in sports.
We've launched the Be Good Do Good charity initiative which helps us generate funds to distribute to deserving kids that otherwise wouldn't be able to get involved in sport. Every time a Be Good Do Good dish is purchased in one of our outlets we donate $1 direct to The WaterBoy, and we're also running a program of karma kegs across our venues where all proceeds from the beer and cider you drink goes straight to kids that needs it.
Our aim is to give over 50 kids a year the opportunity to participate in sport that they otherwise wouldn't have, because we know that each young life we can help turn around will have a huge impact on them and their communities. Get involved just by ordering a Karma Keg beer or cider, or having one of the Be Good Do Good dishes at participating Good George venues. Have a yarn to one of our team members to find out more!